2 of the PlanHQ crew Koz and Nik are up at Railsconf in Portland, Oregon for the week. Railsconf is the global get together for the development community around Ruby on Rails, the technology we use to build and run PlanHQ.
Koz is on the core team of Ruby on Rails and is speaking on 'the Rails Way' and will reviewing a web application live and showing how it can be done better using Ruby on Rails. Nik also won a ticket to Railsconf by contributing to the Ruby on Rails project, which is awesome, so we hooked him up the flights from New Zealand and Koz and him are working it with some of Koz's buddies and other leading guys in web development.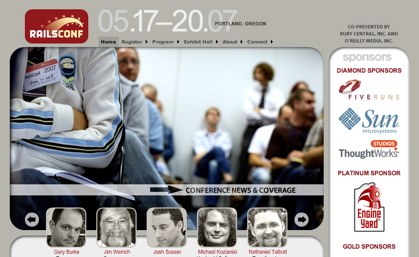 Why Ruby on Rails is good for you as customers
If you don't know much about the technology beneath web products like PlanHQ, thats OK, here's a 2 line summary as to why its a smart move and helps us help deliver a better PlanHQ experience for you
Ruby on Rails fits with our approach of making PlanHQ simple, and constantly improving. Ruby on Rails is fast becoming the most popular technology in pioneering the modern web, with huge success in products like Basecamp. With Ruby on Rails we've got pretty fast development times, so we're able to get our hands on the working application and into the hands of you, quicker. This enables us to get real feedback and make enhancements quickly. We release things to improve PlanHQ often several times everyday, so this really important.