It's taken a little longer than expected, and a lot of people have been asking and waiting for this, so we're really excited to let you know that we've now got financials live in PlanHQ, It's as simple as entering data in a spreadsheet but as powerful as looking a dashboard on your business.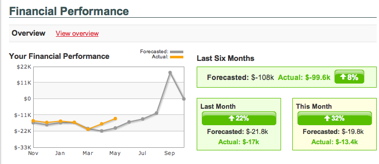 It's been pretty full-on getting this working just right, and it's come along way from a vision of little green arrows of success in my head, discussions with Rod about collaborative budgeting, to paper drawings, and working close with my 3rd arm (nat) to design something simple and beautiful. Koz and Ben have done a really great job of bringing this to life and Oliver has continued to tweak up everything to completion. Big thanks to the PlanHQ team
Keeping it Real
I've done plenty of sales forecasting and budgeting over the last half a dozen years, and like most entrepreneurs and business managers, what you initially forecast is often quite a long way off what actually happens. So I've made it so that you can easily update your actual data as it comes to hand and see how you're racking against forecast. If you're way out, you'll get big red indicators telling you how much you're out by helping you adjust your forecasts until they're close to reality!
Improved Investor Confidence and Valuation
If you're managing an investor relationship or looking for investment then you want to get the best valuation you can for the business, and to do this you need to give investors confidence in your forecasts. And now with planHQ you and your investors can quickly see at a glance how you're performing and how good you are at achieving your targets.
Keep the feedback coming, get in and use this and tell us what you think.